All people working in forensics can join the Association!
WAWFE members (whose membership is current) will receive a personal identification number (PIN),
with which they can enjoy the following special advantages :
- discounts during WAWFE events
- to become part of our Staff and Professional network
- possibility to apply for WAWFE Scoolarship program worldwide
- possibility to apply for WAWFE Scientific prizes
To apply fill in with all your data and send us back the application form
---
Todos los que trabajan en forenses pueden solicitar la inscripción a la Asociación!
WAWFE membros (en regla con el pago de la cuota anual) recibiran un número de identificación personal (PIN)
con lo que ellos pueden disfrutar de los siguentes vantajas especiales :
- descuentos durante los eventos de WAWFE
- aceso al WAWFE Journal
- formar parte de nuestro Staff y de nuestra red profesional
- posibilidad de obtener becas en el programa de WAWFE Scoolarship alrededor del mundo
- postular para los premios científicos WAWFE
Para aplicarse rellenar y enviar el formulario de solicitud
---
Possono aderire all'Associazione sia professionisti che cultori delle Scienze Forensi!

I membri WAWFE (la cui adesione è in corso) riceveranno un numero di identificazione personale (PIN),
con cui si possono godere dei seguenti particolari opportunità:

- Sconti durante gli eventi WAWFE
- Accesso al WAWFE Journal
- Entrare a far parte del nostro Staff e Rete professionale
- Possibilità di fare domanda al programma "WAWFE Scoolarship" in tutto il mondo
- Possibilità di concorrere ai premi WAWFE scientifici
Per iscriversi compilare in tutte le parti e rinviare il modulo di iscrizione
---
Renewal of Annual Registration Fee : 25,00 Euro
New Members Registration fee for the 1st year: 30.00 Euro
Special discounted registration fees for Students and Police forces
(Non-payment for 2 consecutive years of the membership fee will remove the person from WAWFE members)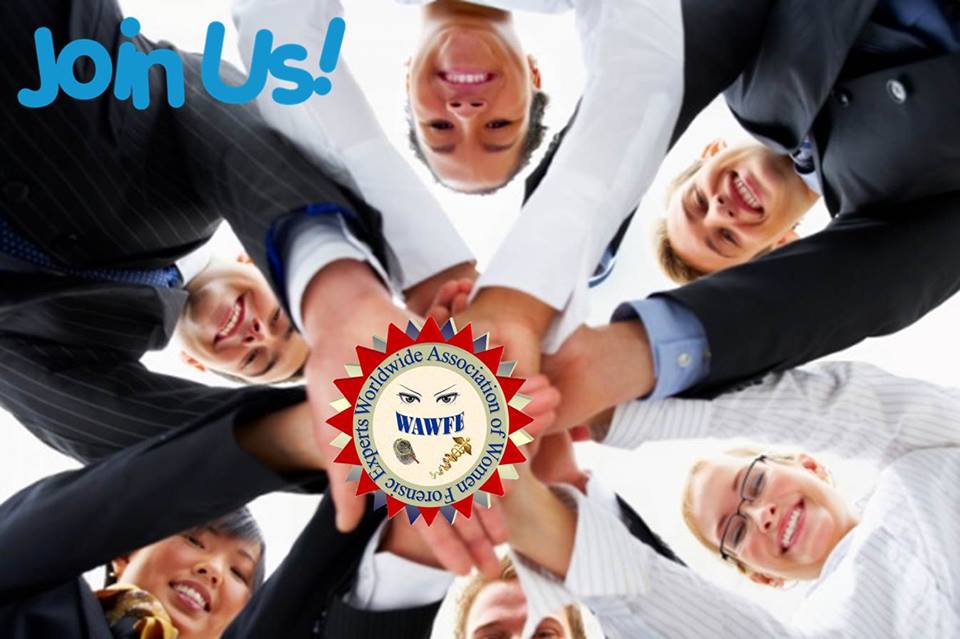 Cuota anual de affiliaciòn : 25,00 Euro
La cuota de inscripción para nuevos miembros es 30,00

euros para

el primero año.
Cuotas de affiliaciòn especiales para l Estudiantes y Fuerzas de Policia
La falta de pago de la cuota de afiliación durante 2 años consecutivos privará a la persona del título de miembro WAWFE)
Rinovo Quota di iscrizione annuale: 25,00 Euro
Quota di iscrizione per il 1°anno per nuovi membri: 30,00 Euro
Quote di registrazione scontate per Studenti - Forze dell'Ordine
(il mancato pagamento per 2 anni consecutivi della quota di iscrizione implica la perdita del titolo di membro WAWFE)
---
Apply now!!! Afiliate ahora! Registrati ora!
Please fill in and send back - Completar y reinviar - Riempire e reinviare a: membership@wawfe.org
Membership Payment - Pago de la Cuota de Afiliaciòn